Hyer Quality Detail, Arizona's premier automotive aesthetics studio, announced today that they have been named XPEL U.S. Market Leader of the Year 2022. The award highlights one shop for their outstanding contributions to advancing the automotive protection industry through growth, consumer education, superior quality, and exceptional customer service.
Pete Costanza, XPEL's Regional Rep, "We are very proud to name Hyer Quality Detail Market Leader of the Year. This award demonstrates their contribution to the continued growth of the industry, as well as their commitment to providing an exceptional customer experience and end product." 
XPEL's paint protection films are scientifically formulated to be the most advanced films on the market. Backed by a 10-year warranty, XPEL films are virtually invisible with the highest optical clarity, and self-healing technology that is scratch and crack resistant. XPEL Stealth paint protection film, offers a satin or matte finish and offers the same layer of protection but turns glossy paint in to a matte finish.
When looking to protect any vehicle, not only is it important to opt for the highest quality products, but for an experienced and professional shop that understands the art of applying paint protection film. Knowledge, attention to detail, and experience make a difference and that is showcased in the finished product. Hyer Quality Detail's team of certified paint protection film (PPF) installers is committed to the highest level of detail in each project that they take on. Their love of cars & passion for what they do has earned them the reputation as true artists of their trade, making them a leader in the automotive protection and aesthetics industry.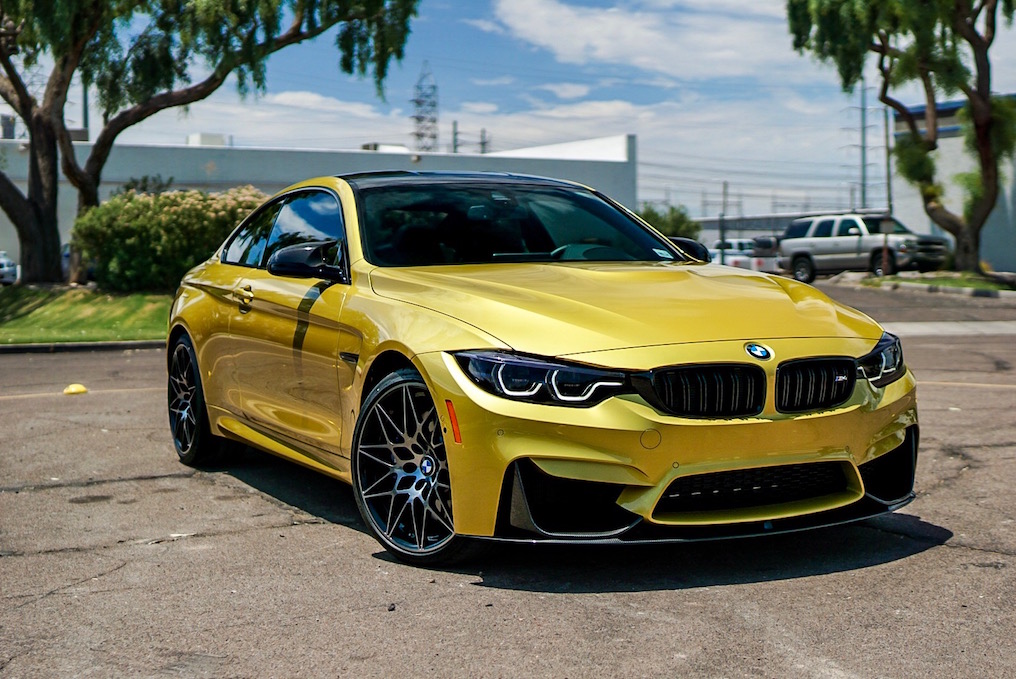 Hyer Quality Detail offers a number of different paint protection film packages to help meet the needs of individual vehicle owners. Packages include their 
Standard Kit – focusing on bumpers & mirrors, Partial Frontal (bumper, 12-24" up hood & fenders, mirrors & door handle cups), Full Frontal (bumper, full hood & fenders, headlights & fog lights, mirrors, door handle cups), Track Pack (bumper, full hood & fenders, headlights & fog lights, A-pillars, mirrors, rocker panels, front & rear splash guards, door handle cups), and Full Body (ALL painted surfaces, ALL lights). Check out their STEALTH PPF which not only transforms & protects any vehicle, but provides an aesthetically pleasing satin/matte finish.  
When looking for the ultimate paint protection for a car, truck, SUV, luxury vehicle, electric vehicle (Tesla, Rivian, Lucid), exotic vehicle, or commercial vehicle, HQD is an industry leader in automotive protection. HQD's 10,000 square foot, climate-controlled facility is located in Tempe, Arizona and their attention to detail is experienced the minute customers enter their shop. As XPEL's U.S. Market Leader of the Year 2022 & XPEL Dealer of the Year 2020 they know they are getting the best protection for their vehicle, installed by industry experts.
More information about the services offered by Hyer Quality Detail is available on their website. Potential clients can direct any questions to a company representative at 480-703-7217. HQD is located at 315 S. Clark Dr. Tempe, Az 85281.
Media Contact

Company Name
Hyer Quality Detail
Contact Name
Hyer Solomon
Phone
480-703-7217
Address
315 S. Clark Dr.
City
Tempe
State
AZ
Postal Code
85281
Country
United States
Website
https://hyerqualitydetail.com/